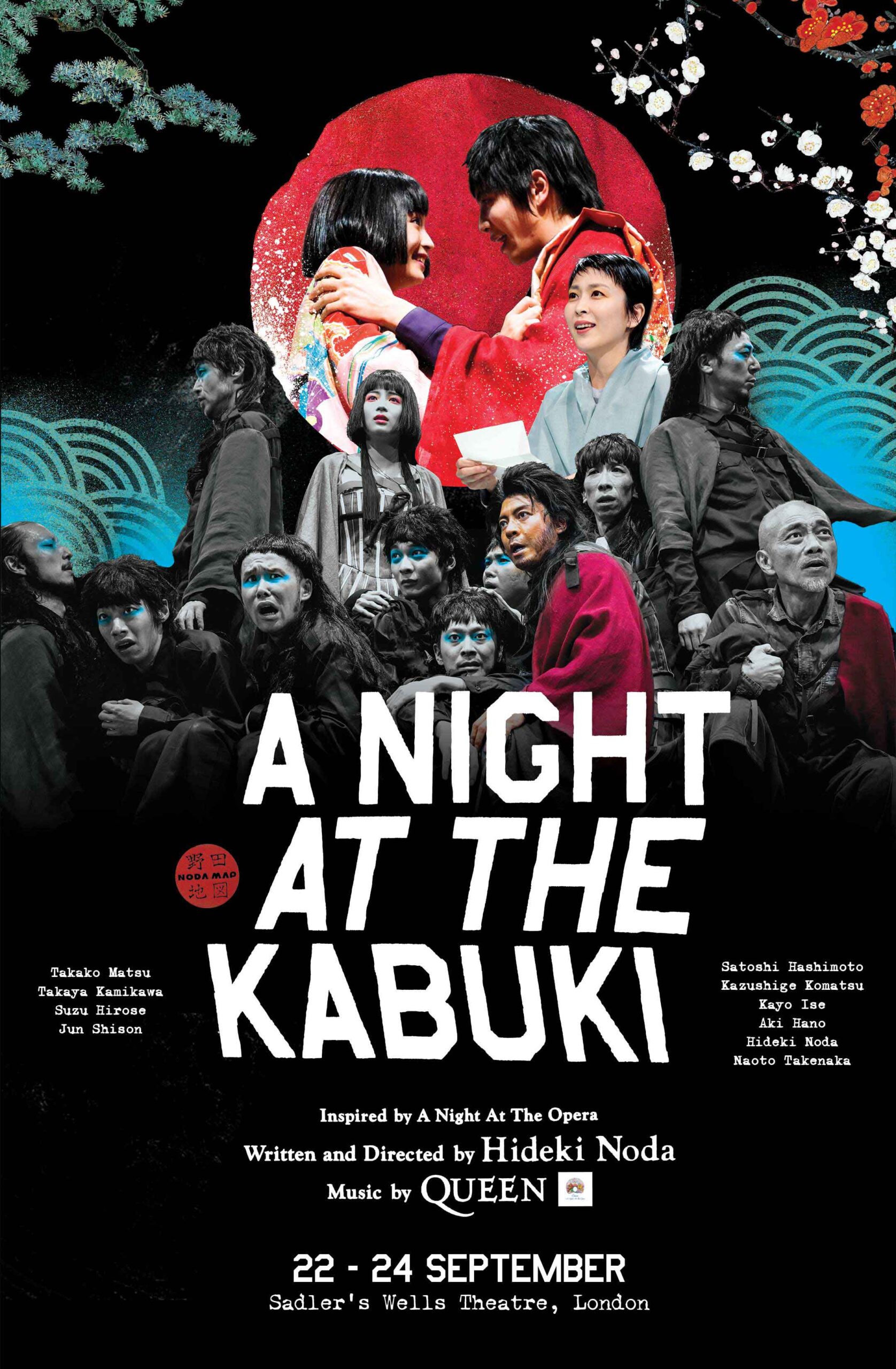 A very special message from Brian May
In late 12th century Japan, just as the age of the Samurai dawns, the rivalry between the Minamoto and Taira clans intensifies.
And Romeo and Juliet fall fatefully in love.
It's the tale you know, but not as you know it. Set to the original recordings of Queen's A Night at the Opera and inspired by Freddie Mercury's love of Japan, A Night at the Kabuki is a retelling of Romeo and Juliet created by acclaimed Japanese theatre maker Hideki Noda OBE.
When two sets of Romeo and Juliet's intercept one another's fates, the well-known story of everyone's favourite star-crossed lovers takes both comic and tragic turns. 

Featuring the original recordings of Queen's masterpiece Bohemian Rhapsody, Love of My Life and You're My Best Friend and many more from the album; A Night at the Kabuki beautifully intertwines music, storytelling and Japanese stagecraft to create a wholly unique and unmissable show.
With an all-star Japanese cast including Takako Matsu, actress and pop singer, who was the voice of Elsa in the Japanese version of Frozen; Takaya Kamikawa the long-running male lead Detective Itomura in CSI: Crime Scene Talks; Suzu Hirose, the youngest recipient to win the renowned Kinokuniya Theater Award and Jun Shison, a member of male actors group D-BOYS & D2 and a global brand ambassador for Gucci.
"For years I have been following Hideki Noda's unique approach to theatre and I am very excited to see this new inquiry in the world of Shakespeare and progressive rock. Noda's work is definitely always ahead of the curve. A wicked witch's brew of Japanese theatrical tradition and delinquent avant-garde."
Robert Lepage
"I first met the brilliant writer, director and actor Hideki Noda over twenty five years ago when working in Japan. Having enjoyed his dazzling work for many years both from the stalls and from within his company, it gives me huge pleasure to see this original and dynamic artist come to London with a major new production. Audiences are in for a real treat."
Edward Hall
"How intriguing to see Shakespeare's great love story completely re-imagined in this way ! A fusion of east and west, with the music of Queen, and all in the hands of a master,  Hideki Noda. Unmissable!"
Gregory Doran
"I can't wait to see this exciting combination of Queen, Shakespeare and Japanese culture by the legendary Hideki Noda. A real culture clash."
Ivo van Hove
"In the year when we have such a major cause for rejoicing, with the Jubilee for the Queen, how wonderful it is that the music of "Queen" should be celebrated in this production, which I know London will take to its heart."
Thelma Holt/Theatre Producer
"I'm so delighted that A Night at the Kabuki is coming to Sadler's Wells.  It has all the hallmarks of Hideki's most engaging work: the madcap pace, the hilarious characters, the impossible turns of plot, the word-juggling dialogue and, perhaps most interestingly for an English audience, the grafting together of different cultures, eras and theatre traditions in pursuit of a deeply-felt Japanese story."
John Caird
NODA・MAP/Sony Music Entertainment (Japan) Inc./Sony Music Publishing (Japan) Inc./Tokyo Metropolitan Theatre
present
Inspired by A Night At The Opera
Written & Directed by
Hideki Noda
Suzu Hirose
Juliet of Minamoto
Satoshi Hashimoto
Yoshinaka of Minamoto, Ex Emperor, Yoritomo of Minamoto
Kazushige Komatsu
Mercury of Taira, Platinum of Taira
Aki Hano
Lady Minamoto, Lady Taira, Mother Teresa
Hideki Noda
Nurse of Minamoto
Naoto Takenaka
Kiyomori of Taira, Bontaro of Taira
Akiko Ozawa &
Eri Komazaki
Sony Music Entertainment (Japan) Inc
Charles Mikami
Sony Music Publishing (Japan) Inc
Assistant producer・NODA・
MAP
Producer
・
Tokyo Metropolitan Theatre
Minako Naito
Tokyo Metropolitan Theatre

・

General Producer
In partnership with
Produced by
NODA・MAP &nbsp &nbsp Sony Music Entertainment (Japan) Inc. &nbsp &nbsp Sony Music Publishing (Japan) Inc.
HIDEKI NODA was born in Japan in 1955, Noda is a playwright, director, and actor. He became the artistic director of Tokyo Metropolitan Theatre as of July 2009 and is currently professor at Tama Art University. Noda launched his first theatre company, Yume no Yuminsha (Dreaming Bohemian) while still a student at the University of Tokyo, creating many works to much acclaim. After disbanding Yume no Yuminsha in 1992, he went to London to study theatre on a Monbusho (Culture Ministry) scholarship. After a year studying theatre, in 1993, he founded a theatre production company, NODA∙MAP. Since then, presented a succession of major hits, including Kill, Pandora's Bell, Oil, Red Demon(UK/Japan/Thailand/Korea), THE BEE, THE DIVER(UK/Japan), The Character, Egg, In the Forest, Under Cherries in Full Bloom and FAKESPEARE. He has collaborated with the Kabuki actor Nakamura Kanzaburo XVIII, adapted Kabuki plays and directed productions of his original versions of the classical Kabuki pieces at Kabuki Theatre, such as Tragedy of Togitatsu, Nezumikozo, and more.Noda is also actively involved in international productions, working with British, Thai and Korean actors. The first show he wrote in English was THE BEE, which was born from a workshop with London actors in 2006. It premiered at the Soho Theatre and received a 5-star review in Time Out, who called it a "highly unusual theatrical gem". In 2012–14, He toured THE BEE around New York, London, Hong Kong, Tokyo, Jerusalem, Seoul, Sibiu, Paris, Luxembourg and Recklinghausen. His Egg was invited to the main house of Theatre National de Chaillot in Paris in 2015. Egg was accepted by both media and audience of Paris having left powerful impact to them. In 2018, his legendary masterpiece In the Forest, Under Cherries in Full Bloom was invited to Paris again as one of the official participating programs of Japonismes 2018. He continues working energetically beyond genres and borders.
He won most of the major drama awards in Japan, and was awarded the 2009 Asahi Prize. He was appointed an Honorary Officer of the British Empire (OBE) in October 2009 and the Medal with Purple Ribbon (for contributions to education and culture) in June 2011.
22 - 24 September
Sadler's Wells Theatre, Rosebery Avenue, London, EC1R 4TN
Thursday 22 September 7.30pm
Friday 23 September 7.30pm
Saturday 24 September 2.30pm

Tickets £100 - £15
Ticket Office
Open Monday – Saturday from 12 pm – 6 pm
020 7863 8000 
tickets@sadlerswells.com
Sadler's Wells Theatre, Rosebery Avenue, London, EC1R 4TN
Public transport
It's easy to reach us using public transport. To plan your journey and for up to date information, visit the
TFL Journey Planner
.
Bus
Numbers 19, 38 and 341 stop at the Sadler's Wells bus stop.
Tube
Angel (Northern Line City Branch) is 250 metres from Sadler's Wells Theatre. Trains run every few minutes northbound to Kings Cross and Euston, and southbound to Bank and London Bridge.
Coach
There is a limited amount of space for coaches to park on Rosebery Avenue.
Please make sure the coach is not parked on the double yellow lines, or in the bus stop. To help reduce noise and air pollution, please make sure the engine is switched off when parked outside the theatre.
Bike
There are bike racks outside and opposite the theatre, and several cycle hire stations nearby.
Car
If you're coming by car, the easiest route is from Pentonville Road into the west side of Claremont Square and down Amwell Street. There are no turns into St. John Street from Pentonville, City and Goswell Roads.
Here are the nearest public charging points for electric cars.
Parking
Free on-street parking in Hardwick Street (and other streets off Rosebery Avenue) after 6:30 pm Monday – Friday and from 1:30 pm on Saturdays. Heavy fines apply to parking in residents' bays.
Exclusive worldwide streaming of the London performance announced.
Available from 17-30 November 2023.